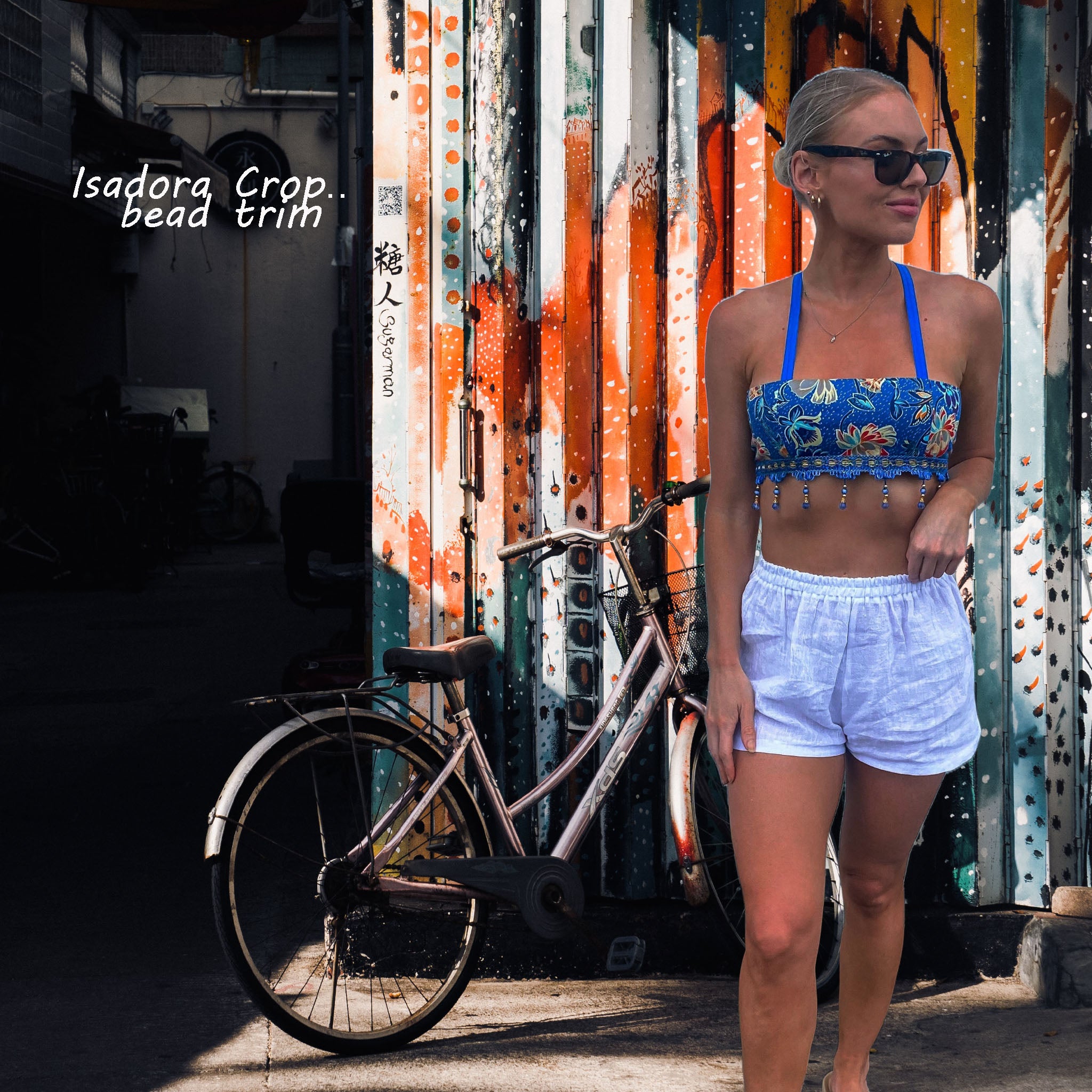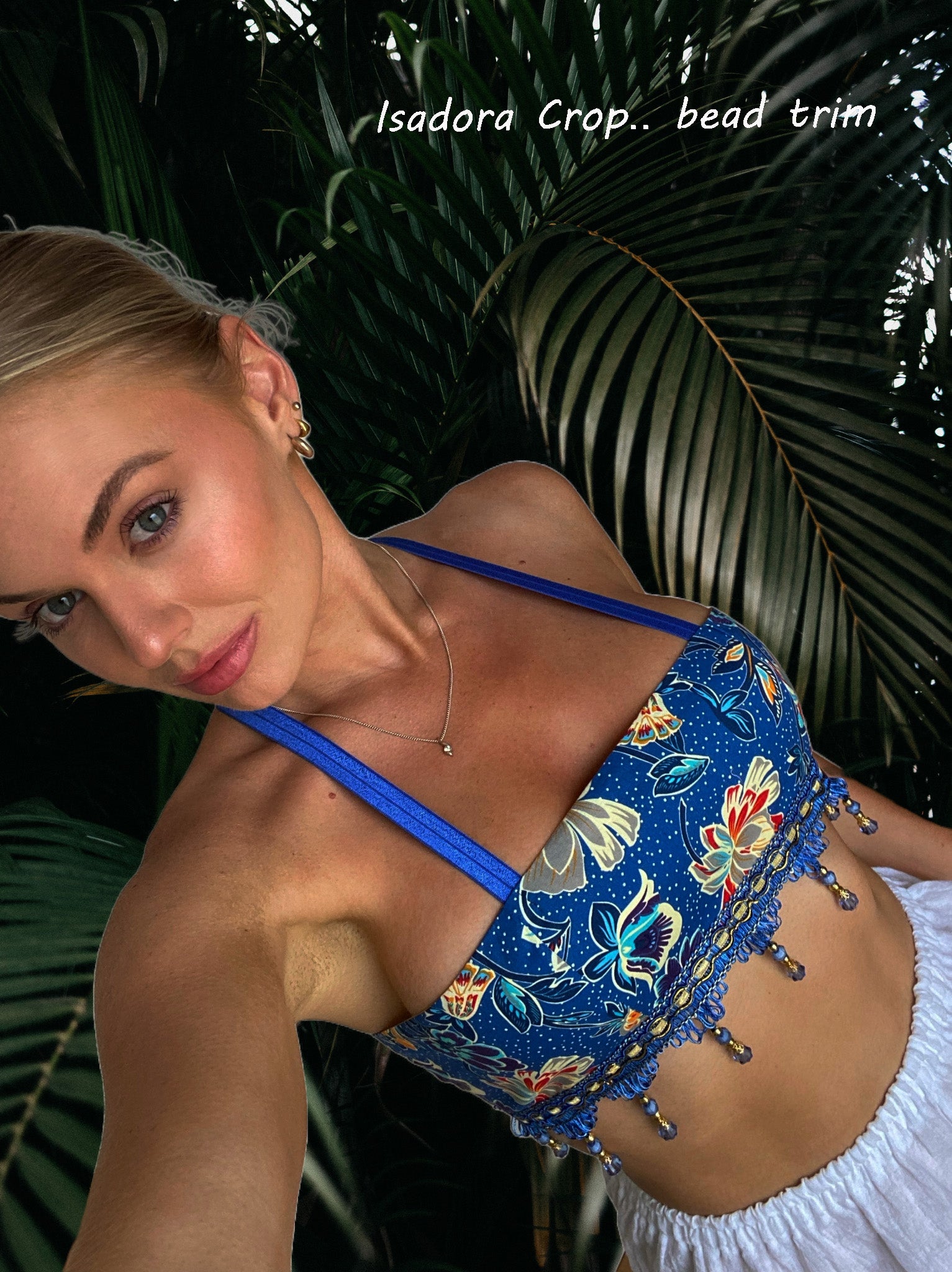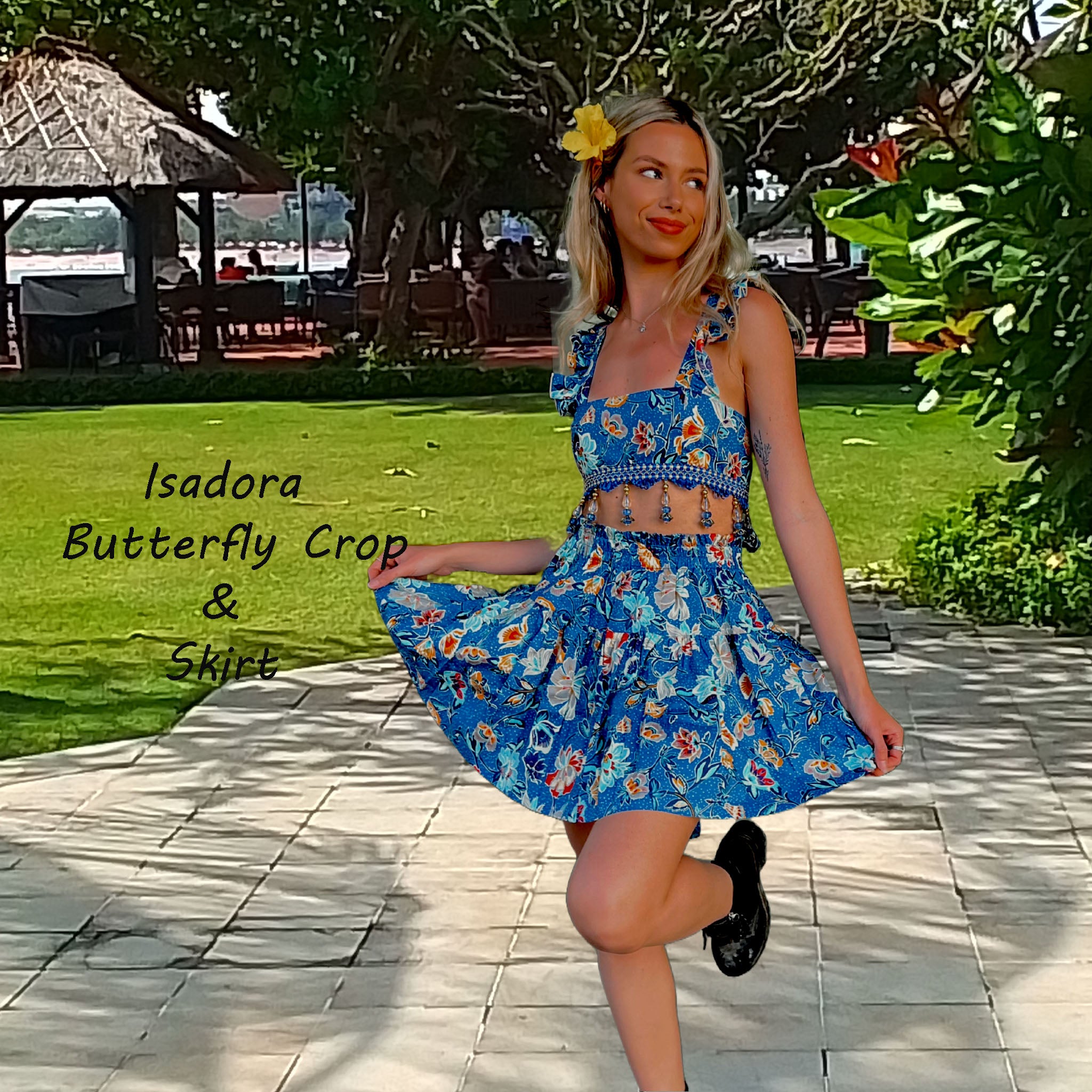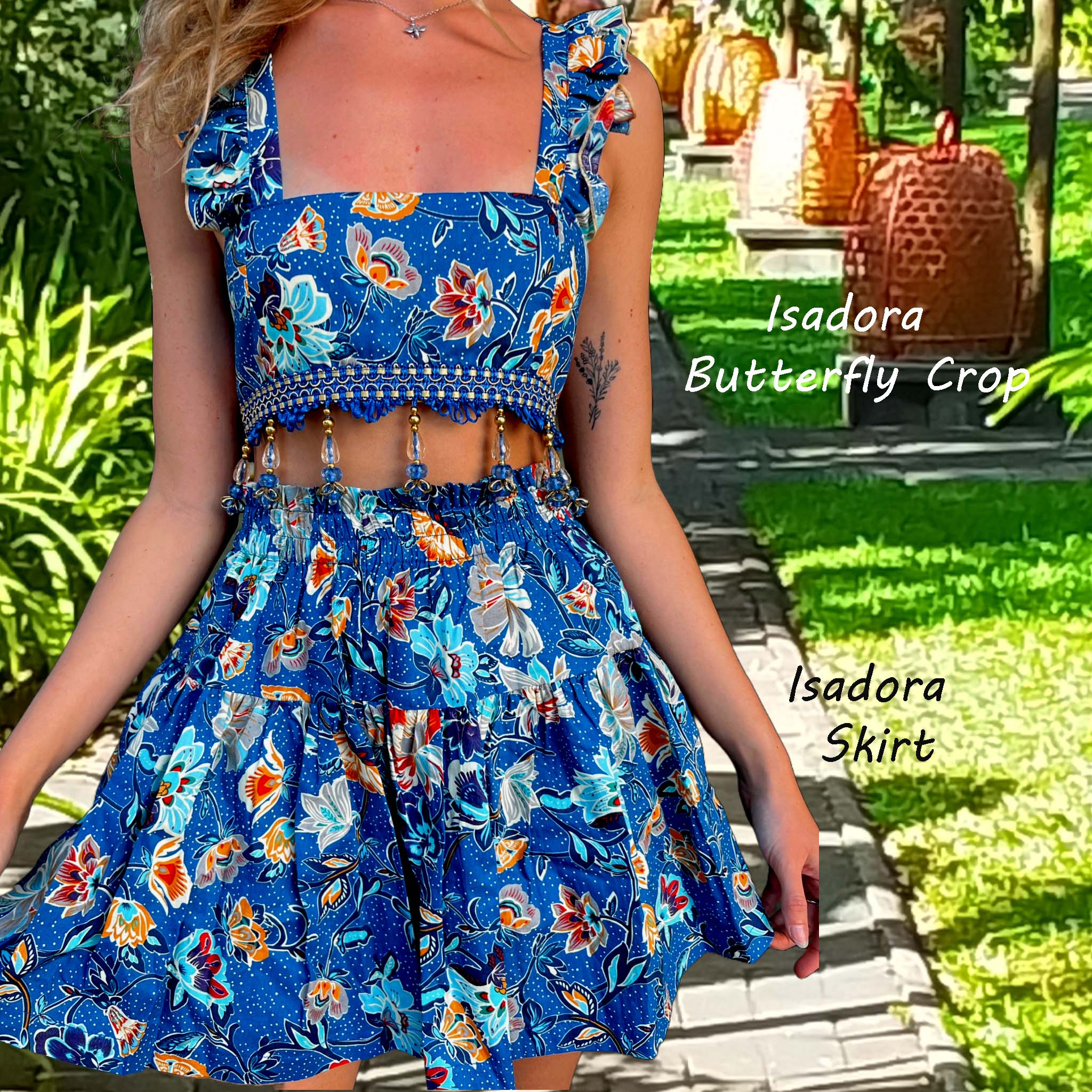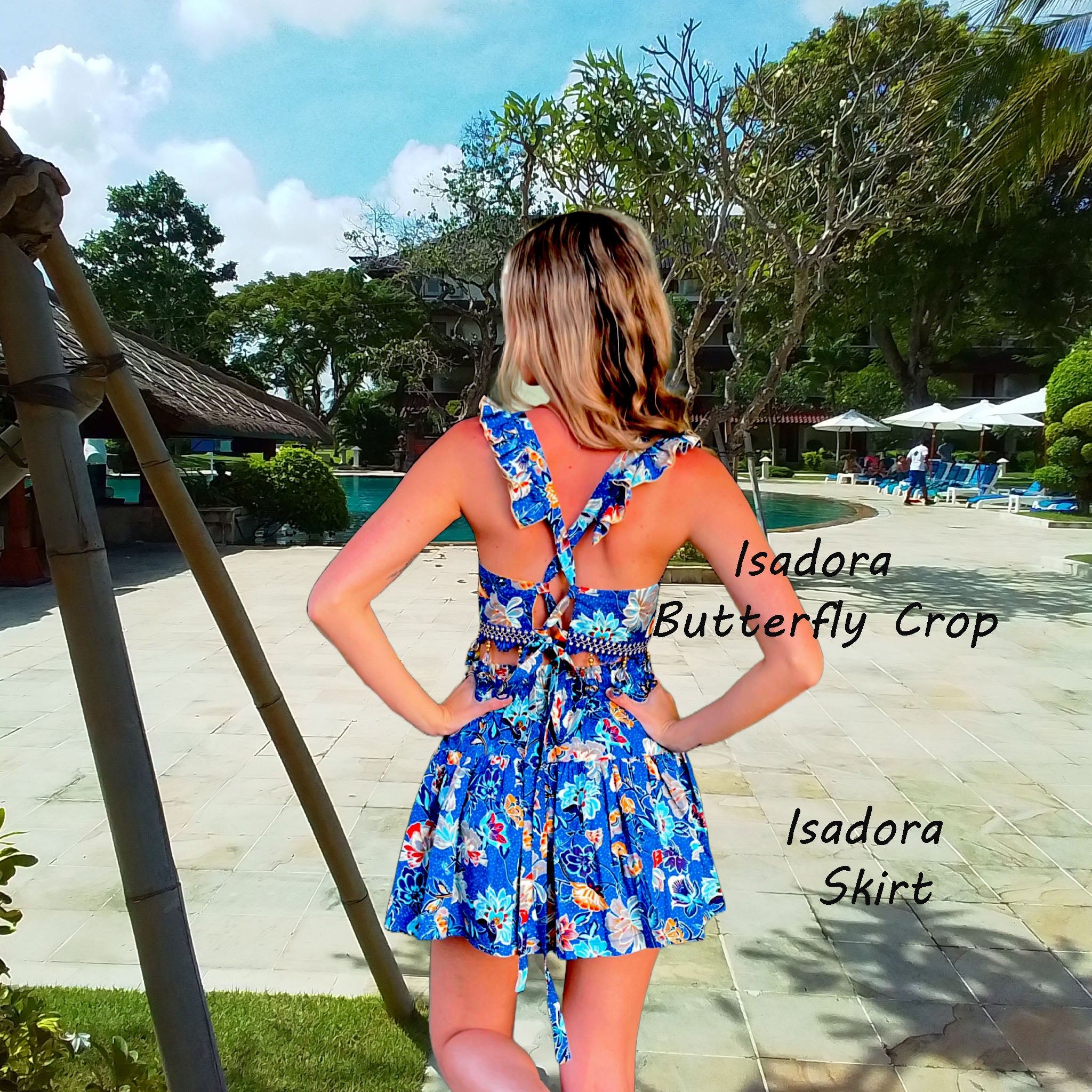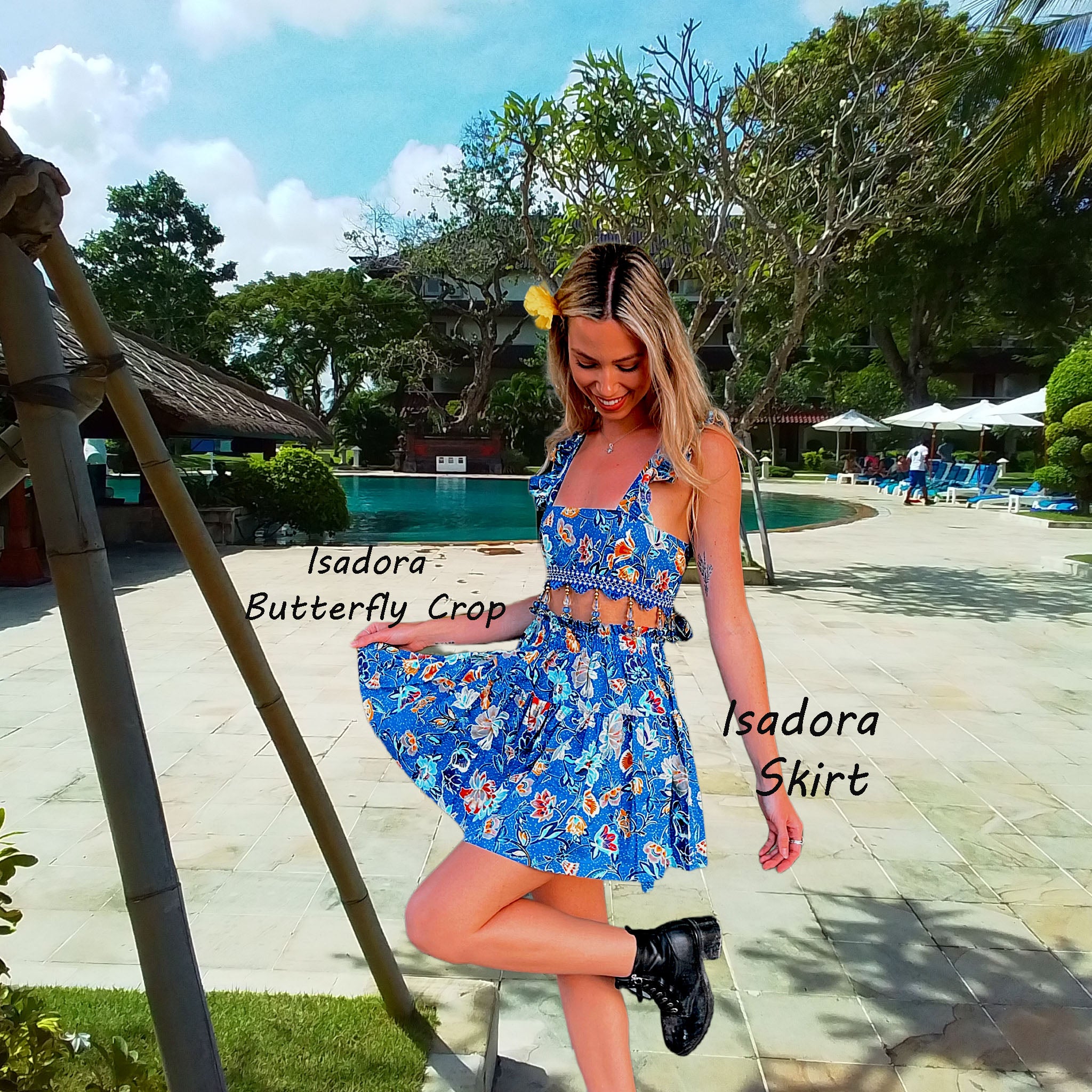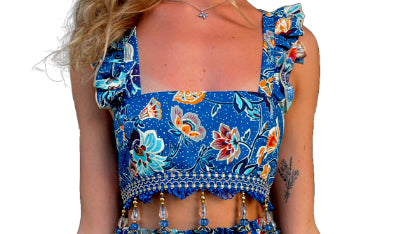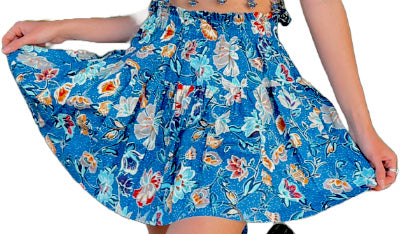 Isadora
$46.00
Or make 4 interest-free payments of $11.50 fortnightly with
More info Or make 4 interest-free payments of $11.50 fortnightly with
More info
23671S
A glance at the cobalt blue background and you're transported to the Mediterranean. A relaxed, yet refined vibe with added bonus--the fabric is a soft, easy-care pure cotton. But the real showstopper? All-over tropical flowers and mini dot print, guaranteed to turn heads.
 Crop - bead trim
This cutie is fully lined for added comfort. The cobalt straps are a soft elastic, passing through side loops, and crossing over at the back to tie in a bow, for a snug fit.
The intricate woven trim is cobalt and gold,  with matching drop beads.
It's a crop you need as a fantastic fun item in your wardrobe. It's really versatile. and easily paired with shorts, skirt or pants, for that go anywhere style. 

Model wears size Small
Butterfly Crop - bead trim
These butterfly crops say "girls just having fun". The soft frills on the shoulder straps are edge stitched and create a delicious feature for this top, both front and back.
Again, the straps cross over at the back, and pass through side loops, to ensure a snug fit.  The top is fully lined for added comfort.
We've gone all out and finished this beautiful crop with a very detailed woven trim. It's a combination of gold and azure, with added drop beads, forming fuschia flowers. It's an exceptional piece because it looks equally fabulous, casual with white sneakers or dressed up with the matching skirt, or your linen pants. In this way, you get to wear our pieces again and again. 
Model wears a size small.
Skirt - MIni
Another opportunity to show off those gorgeous legs!!!
The top of the skirt features a little frill, and the waist is elasticized, for extra comfort. This skirt is made up two sections. The top is sligtly gathered, while the bottom section has a deeper frill. Team the skirt with the crops to make a set, and at other times, use your own choice of options to easily create new outfits. We love to make it really easy!
Model wears a size small
 Care
Hand wash separately, and gently, in cold/warm water.
Use a little mild laundry liquid.
Gently swish your garment around in this water.
Do not bleach or dry clean.
Do not wring or twist the garment.
Rinse in clean water.
Gently roll up the garment to remove excess water.
Hang out in the shade to drip dry. Do not tumble dry.
If ironing, use a moderate setting, and do not iron over trims, or elastic loops and straps.