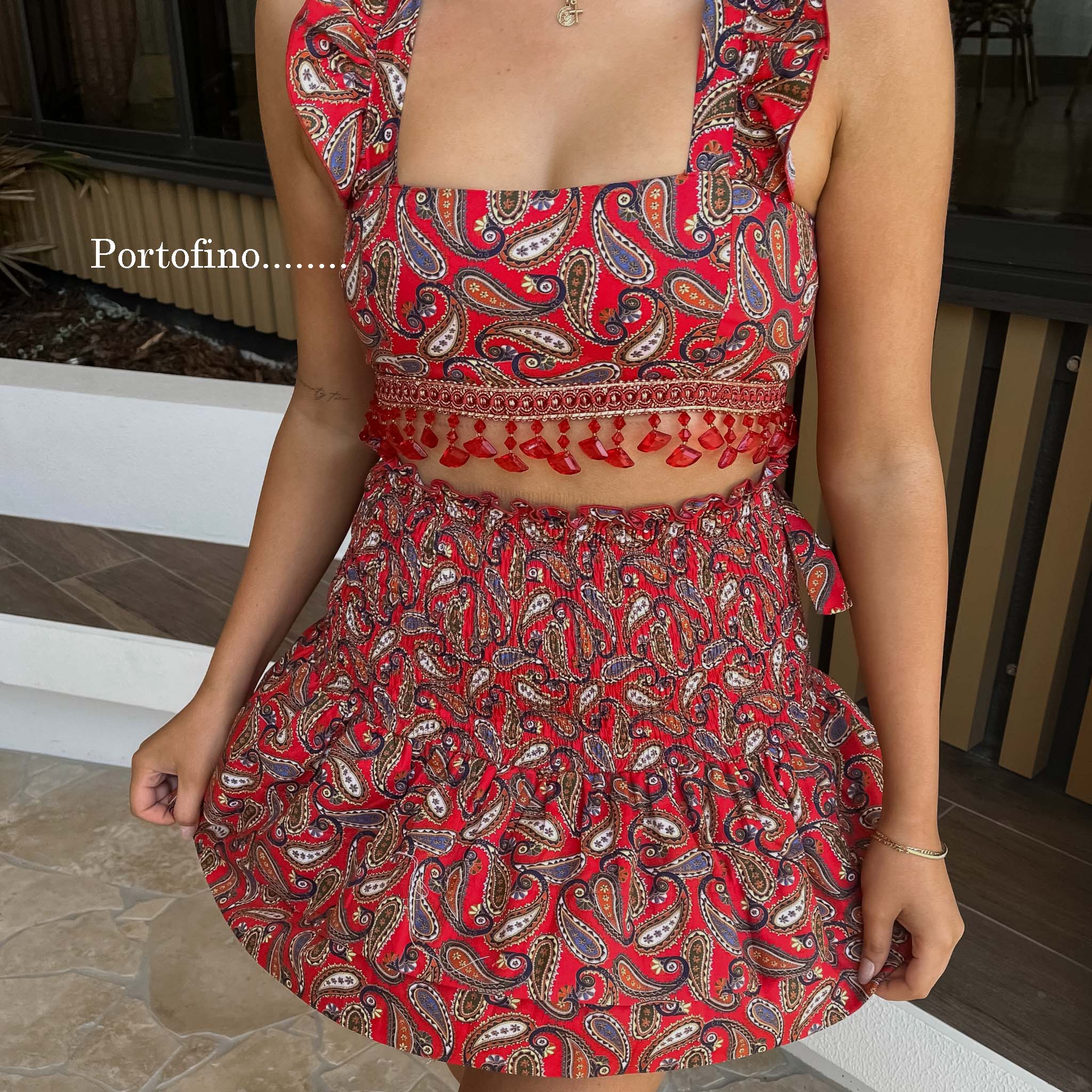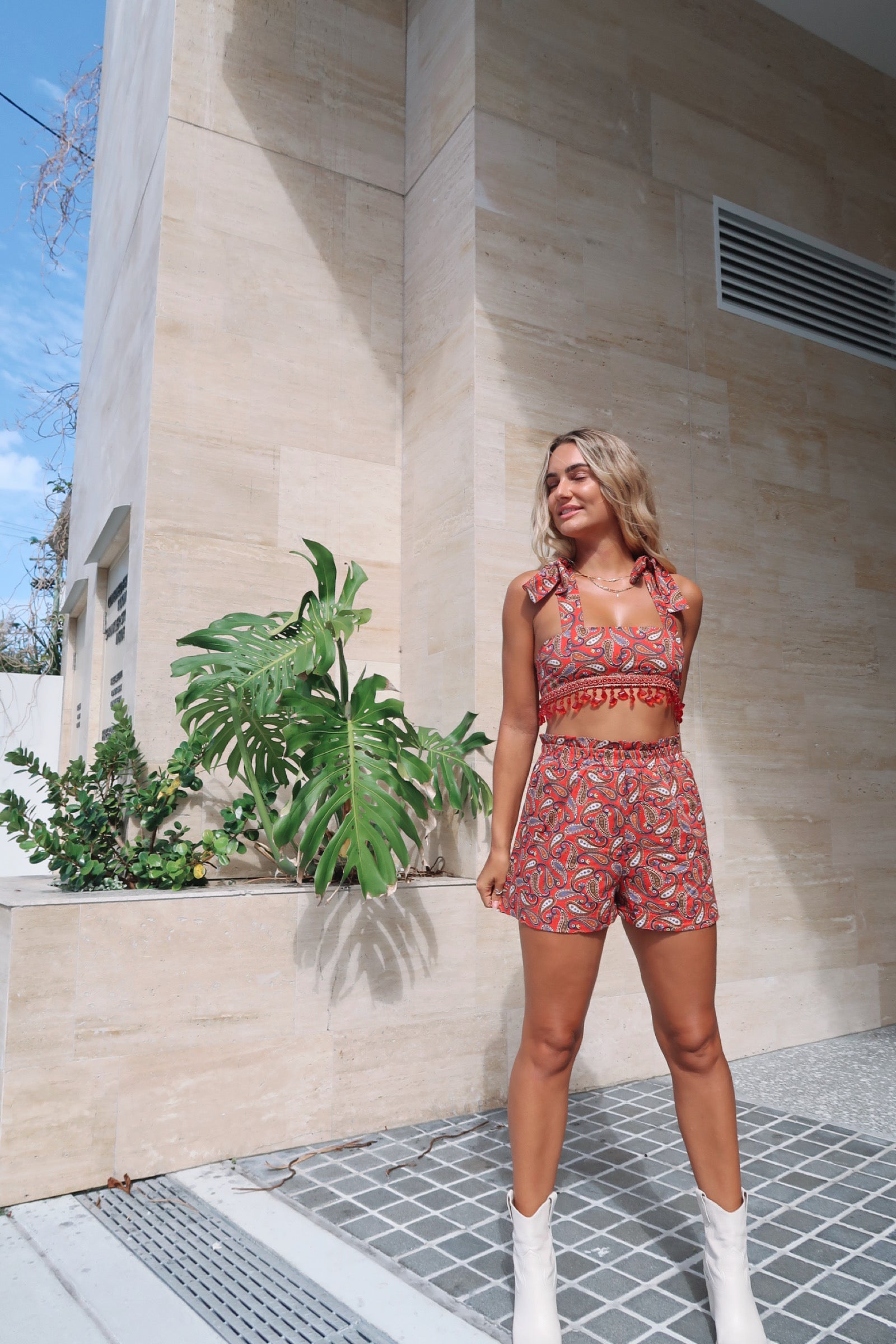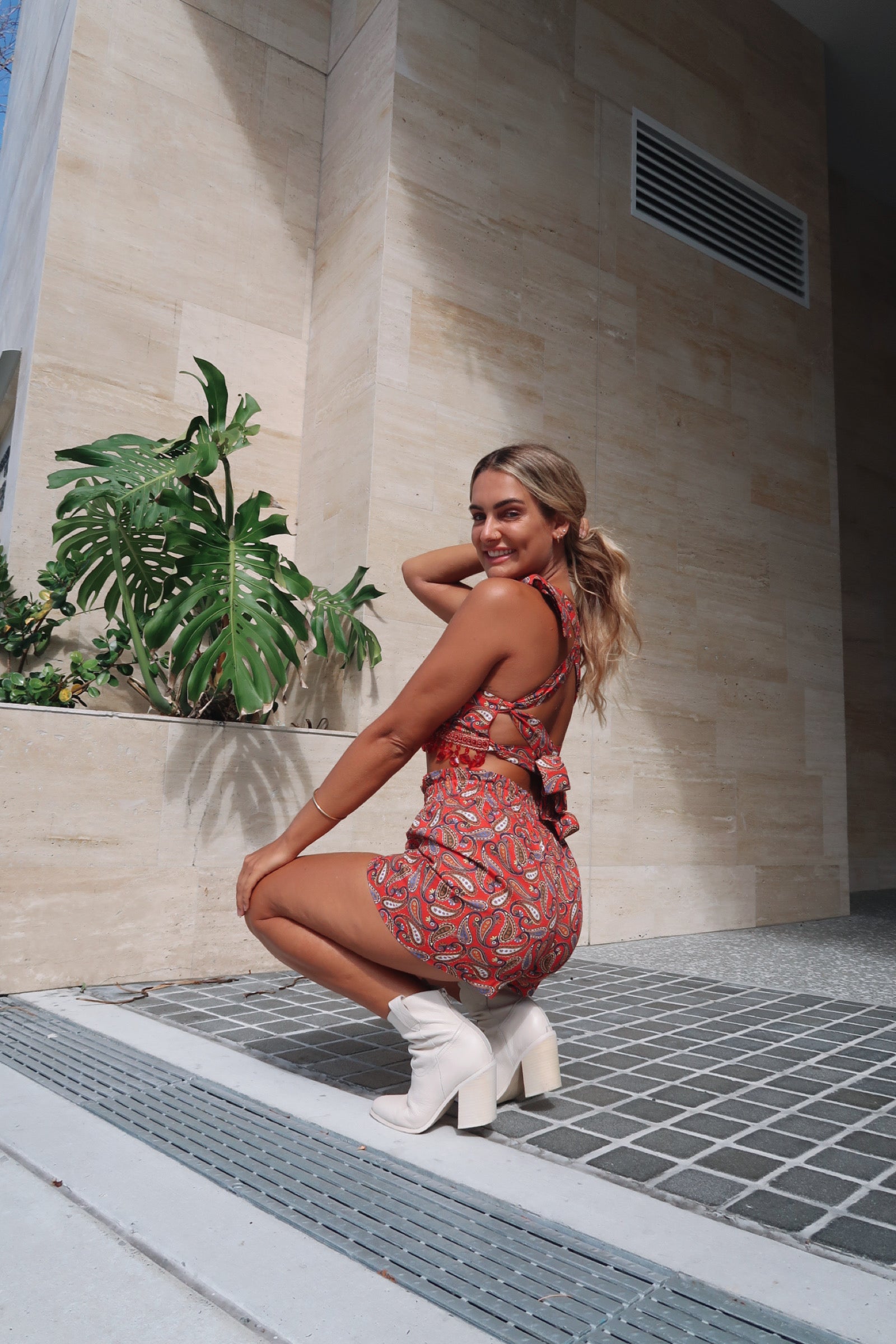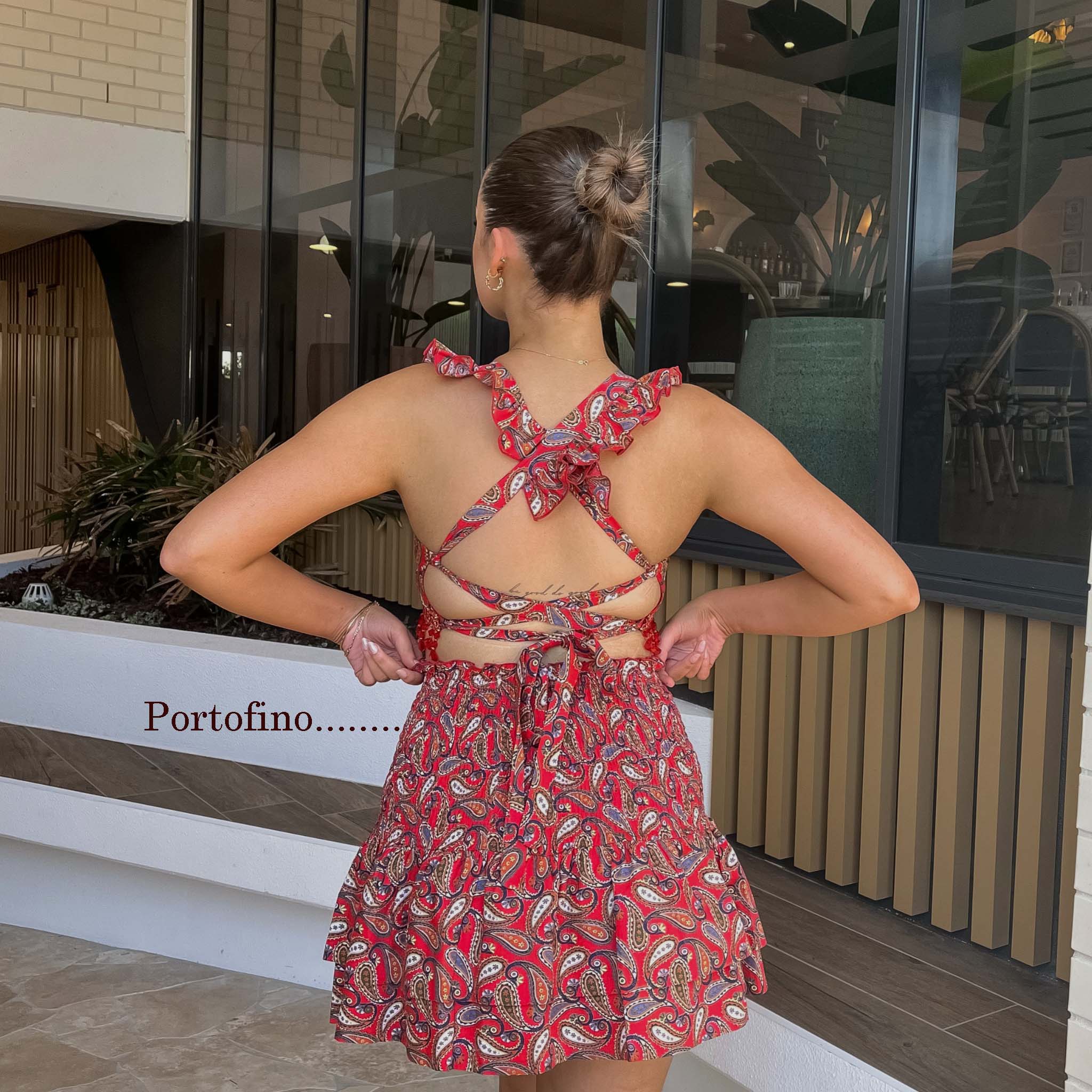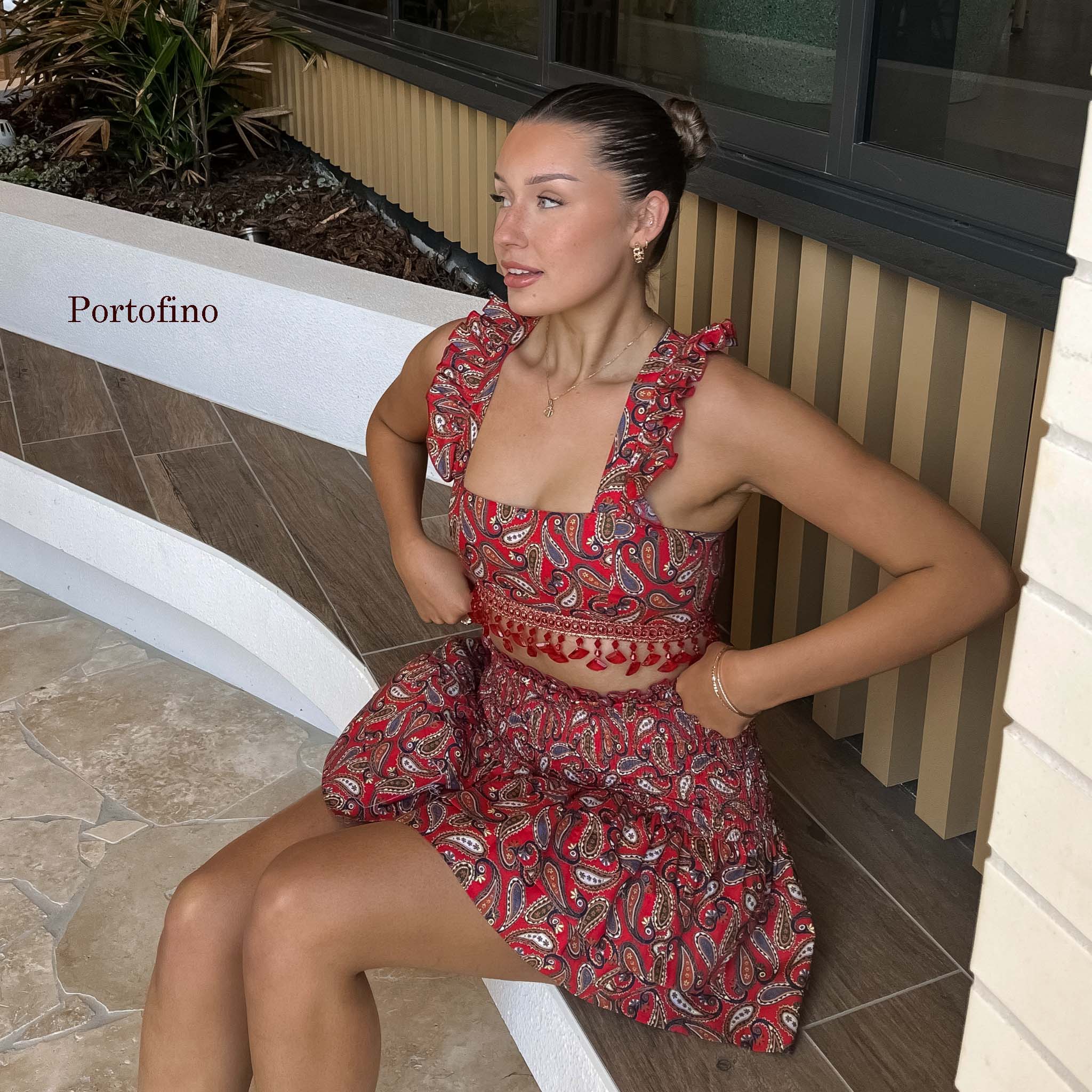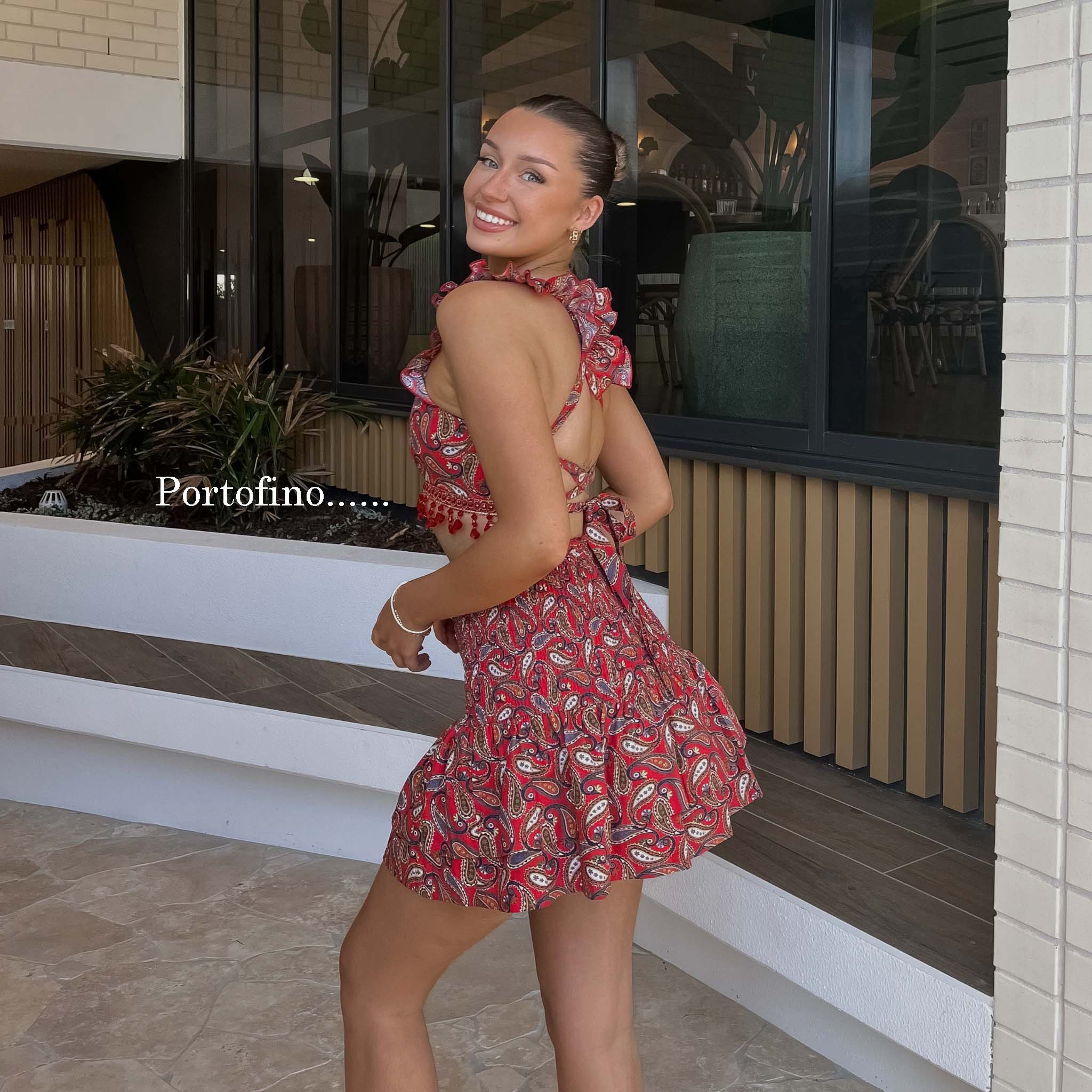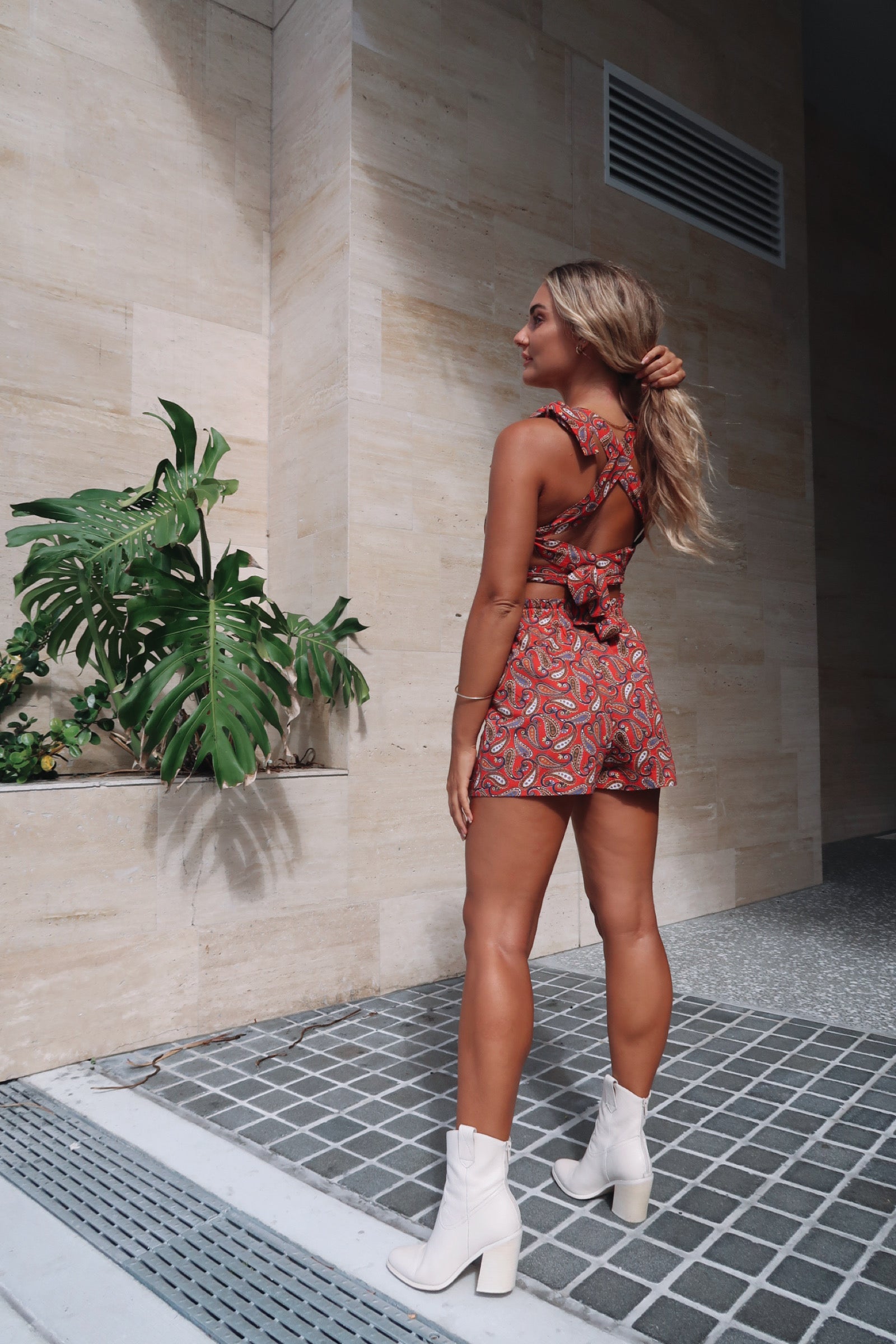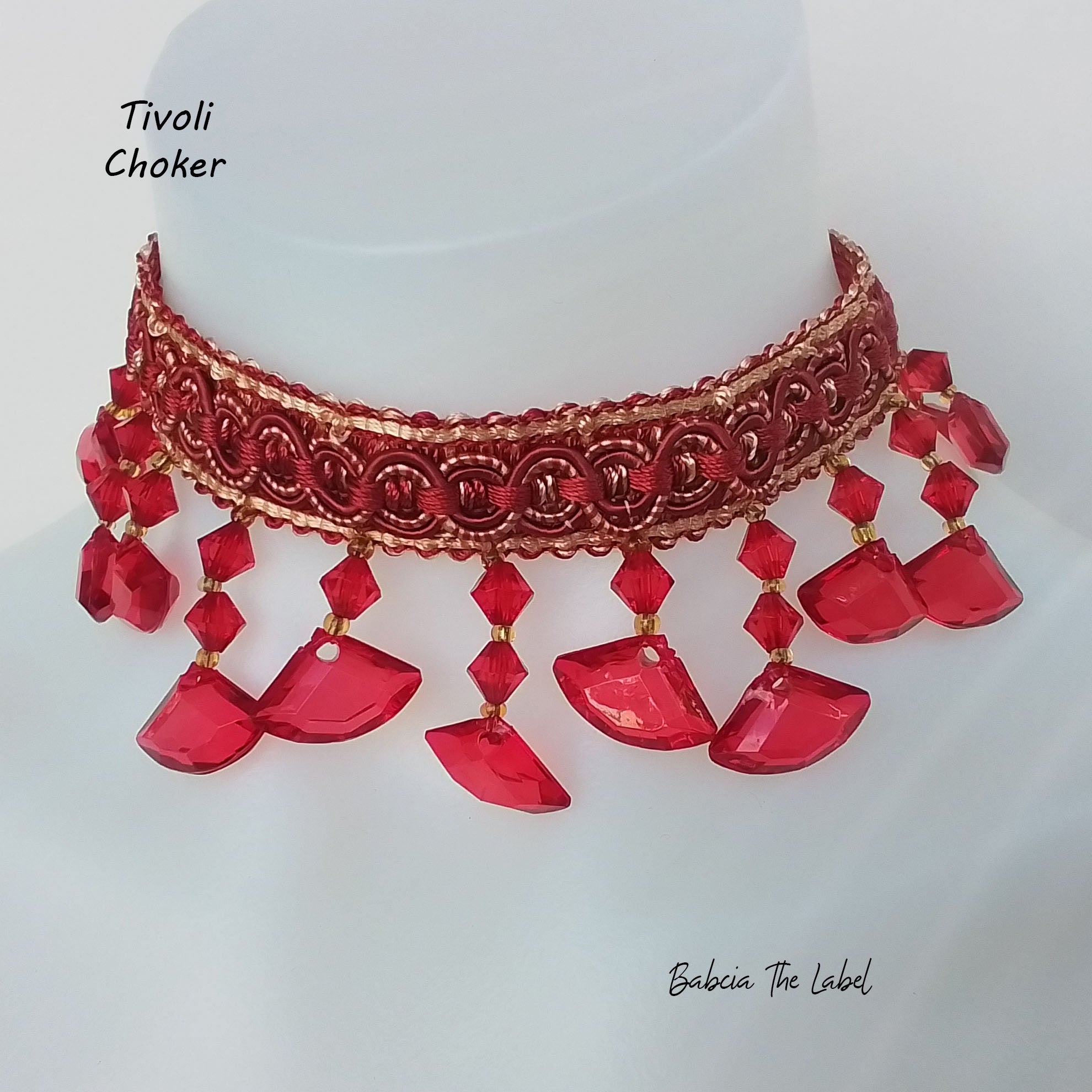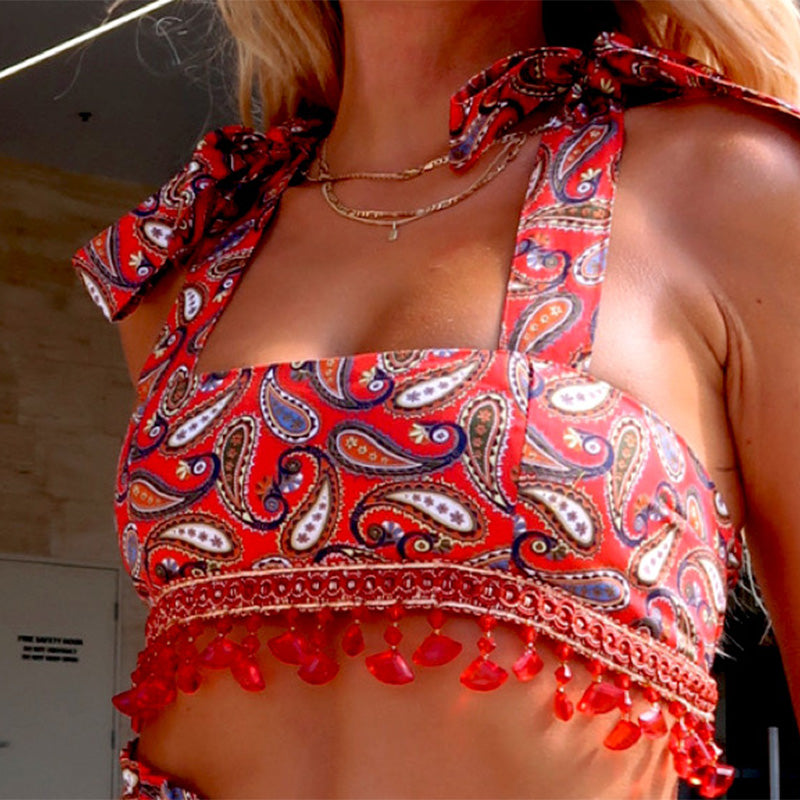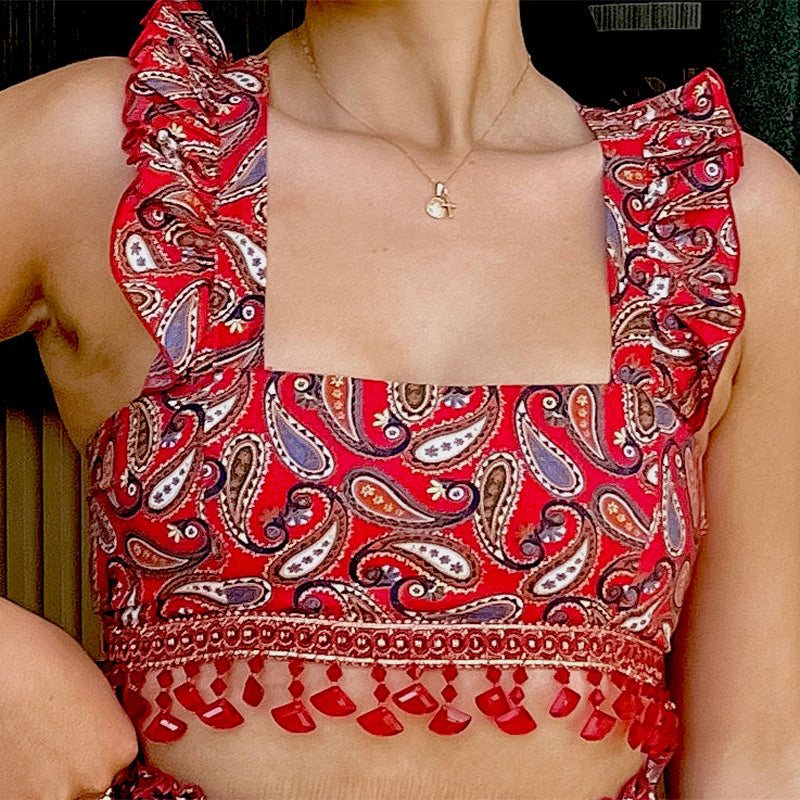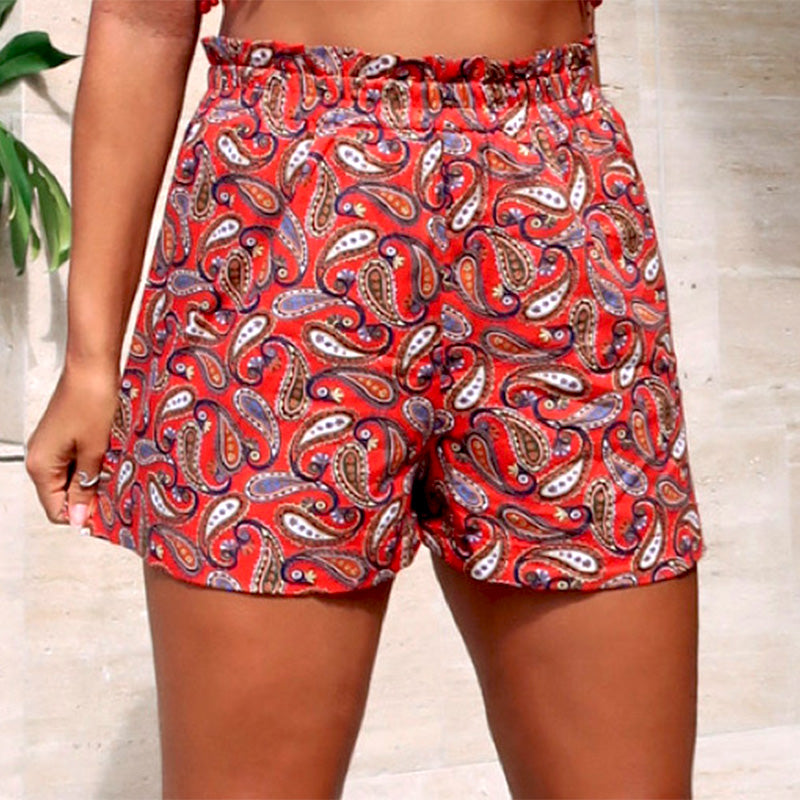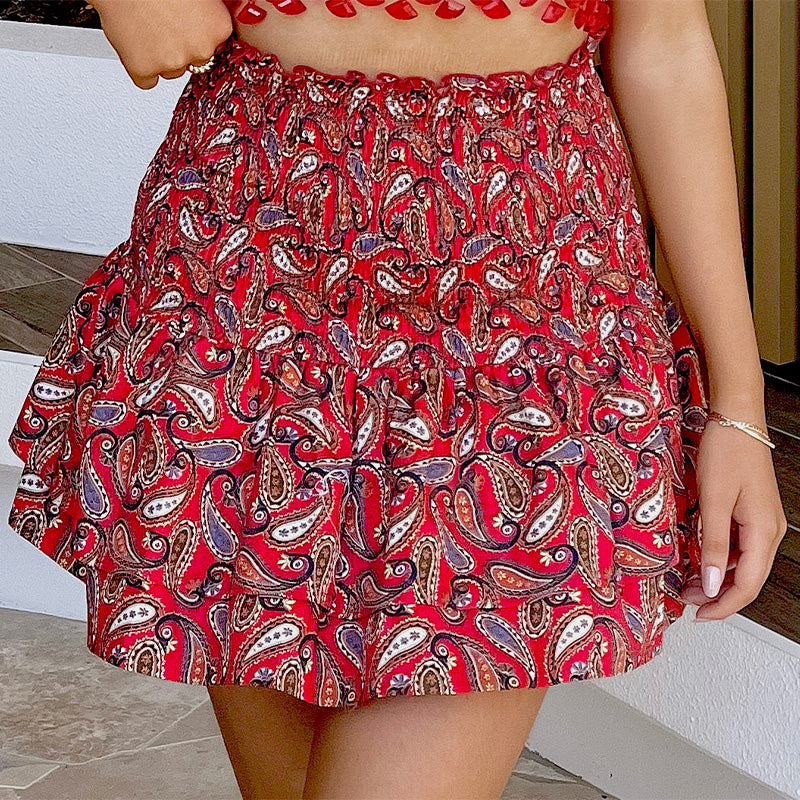 Portofino
$52.00
Or make 4 interest-free payments of $13.00 fortnightly with
More info Or make 4 interest-free payments of $13.00 fortnightly with
More info
22652S
 The background colour for this beautiful cotton fabric is the perfect red. It's easy on the eye, and depending on the light, you'd swear there is a little pink in there. The overall paisley print is outlined in navy, and includes yellow, white and cobalt blue,  in its floral and abstract designs.
Butterfly Crop -  beaded trim
The butterfly straps are made up of frills edged in red. Straps cross over at the back, pass through loops, and tie neatly into a bow at the back. Very comfortable and secure.
Finished with a very detailed gold and red trim and clusters of wave drop, ruby beads. This trim is also used in the Tivoli Choker, which just adds to the magic of this beautiful crop.
It's a  happy piece you'll want to wear often! Model wears a size Medium.

Crop - bow ties on shoulder
The shoulder straps are a comfortable width and feature bow ties, on the shoulders. A tape on the underside, at the shoulder, allows for a choice of two positions for the bows. The straps cross over at the back, feed through two sets of loops, for a perfect fit, and then tie into a lovely bow at the back. Crop is fully lined. To finish, we have added a stunning detailed red and gold woven band, with seriously impressive rose tinted, drop beads. Model wears a size small.
Skirt
Topped with a little frill at the waist, the upper part of the skirt is shirred, for a beautiful body hugging effect. This very girlie piece is then finished with a generous double frill, at the hem. Super comfortable and very gorgeous. Worn with the crop to create the perfect set. Model wears a size medium
Skirt length  - 43cms S/M  46cms Lge.
You'll want to wear this often, so, you can also pair it with your favourite white tee.

Shorts
Always a favourite piece for summer. They're soft and light with an elasticized waist, which also means you get a very comfortable fit. Pair these with a matching crop, for maximum effect. Get lots of additional wear by also teaming with your favourite white or black tees.
Care
Hand wash separately, and gently, in warm water.
Use a little mild laundry liquid. 
Do not bleach or dry clean. Do not wring or twist the garment.
Rinse in clean water.
Gently roll up the garment to remove excess water.
Hang out in the shade to drip dry. Do not tumble dry.
Steam iron with a moderate heat. Do not iron over trims.